Porcupine Real Estate Blog
Everything You Ever Wanted To Know About Backup Generators In New Hampshire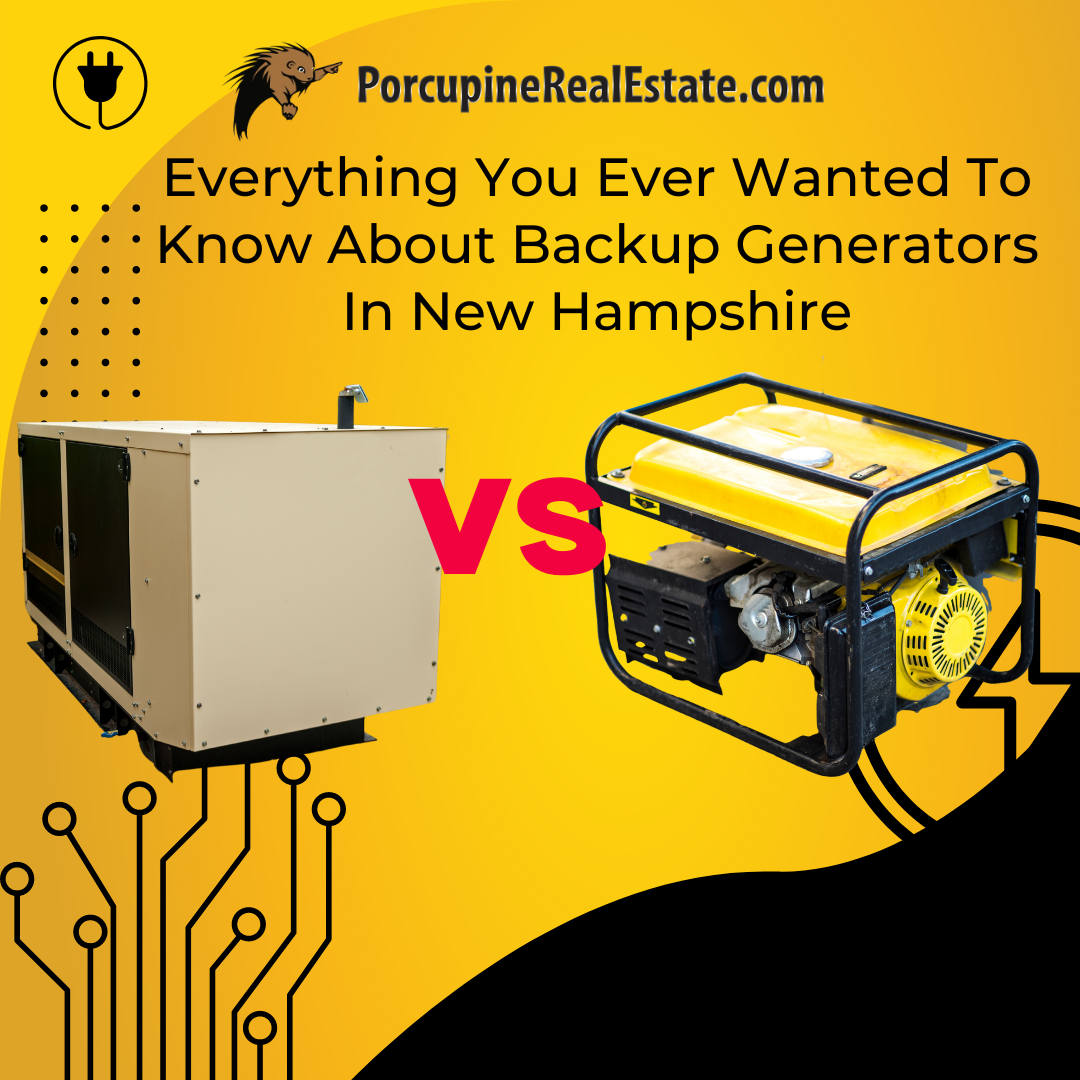 Whether it's a Nor'easter, a hurricane, or even a windy spring day, power in New Hampshire can go out at any time. Many homeowners choose to have a backup generator for these unpredictable weather events, but is a generator really necessary? Chances are you won't use it frequently and, if you have another heating source that does not rely on electricity, you might not be concerned about losing power. 
And, if you live in a city, you usually won't take as harsh of a hit because there are fewer trees. Rural grids always have more outages than cities and some rural areas are more prone than others. 
Let's take a look at the situations in which generators can be useful, why you might (and might not) want to have one, safety concerns, and the cost to have a generator.
Types of Generators [Whole House vs Portable]
A whole house generator (also called a backup generator or a standby generator) is a backup supply of electricity when the power goes out. It turns on automatically when you lose power and it will automatically supply electricity to your entire home. The amount of electricity your home requires is a big factor in choosing a generator. If you have a larger home, a standby/whole-house generator might be the better option.
Portable generators are smaller, cheaper, and portable, meaning they can be stored in a shed or garage when not in use. They don't supply as much power as whole house generators, but they can be connected to certain circuits, like your appliances, HVAC system, and well. Portable generators need to be manually connected to your home in order to work. You'll also need to fill them up with fuel manually. 
Generators are sold based on how much power or wattage they put out. When choosing a generator, you'll want to pick one that meets or exceeds your power requirements so that it can supply more than enough power to run your home during an electrical outage. Talk to your electrician for help in determining the best size for your home. 
Kyle Franco, owner of Free State Electric, recommends looking at powering the bare necessities with a portable generator, like the well pump, refrigerator, gas stove or microwave, and a heat source. "I recommend a 7,500-watt generator which gives you the largest output potential in the most commonly available inlet sizes. This is large enough to run everything you should need in an outage."
For whole-house generators, Franco says the wattage is based on the panel loads and generally ranges from 15kW to 22kW. 
So, why should you have a generator?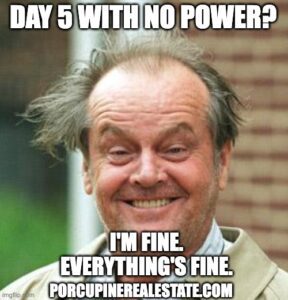 Well, first of all, it is convenient for those times you lose power, especially since, in New Hampshire, power outages often last for days (and sometimes weeks). Generators also provide peace of mind, so you don't have to worry about staying warm or your plumbing freezing during winter. Keeping necessary appliances working is also important, so the food in your fridge won't spoil and, at the very least, your microwave will work so you'll still be able to cook. A generator can even keep your sump pump working, helping to prevent flooding in your basement. 
While there are plenty of pluses to having a generator, you should know that they aren't for everyone. A whole-house generator can be pricy to buy and install. Even a portable generator can be expensive since it requires an electrician to install a transfer switch in your electrical panel. 
Generally, you'll only need to use the generator a handful of times each year, so it's a good idea to weigh the cost with the anticipated benefit. Generators also take up space; whole house generators need to have about 5 feet of clearance on all sides, while portable generators should be about 20 feet away from your home, according to Consumer Reports, and require space to be stored. You'll also have to maintain your generator, so budgeting for annual servicing is a good idea.
Safety considerations
A whole-house generator is a permanent fixture outside of your house. They can be as long as 50" or more. They connect directly to your natural gas or propane tank lines, so you don't have to go out in inclement weather to turn them on. 
Both whole house and portable generators must be run outside only with full ventilation, so you can't keep them in a garage or shed since the gas they emit contains carbon monoxide. It's also important to place generators off the ground and with at least 5 feet of clearance on all sides (for whole house generators) or 20 feet away from the house (for portable generators) and to keep kids and pets away from them.
Costs
For portable generators, Franco mounts a mechanical interlock on the main panel that will not allow the utility electricity and generator electricity to feed the panel at the same time. A typical generator inlet installation is usually within 20ft of the panel and, depending on the situation, can cost around $850. 
A whole-house generator, on the other hand, can run from $12,000 to $18,000, depending on several factors.
Maintenance considerations
Franco emphasizes that maintenance is key. "Make sure you treat the gas and do periodic oil changes. A whole house generator should be exercised at a time when you are home so you can hear it running. If it doesn't exercise then you know you have an issue." And for those who are thinking about dual-fuel generators that have propane as the secondary source, Franco warns, "People tend to forget that propane freezes."
Is a generator right for you?
How, then, do you decide if a generator is right for you? Franco recommends taking into account where you live in New Hampshire, your age and abilities (ie, if the setup is for an elderly person, accessing the generator in severe weather and operating it might be a challenge), and looking at your budget to determine which option best fits your budget (and don't forget to include maintenance costs). Franco says that, for most people, a standby generator is all that you need.
If you're interested in exploring generator options, you can reach Free State Electric by email at FreeStateElectric603@gmail.com or by phone at (603) 660-8428.