Porcupine Real Estate Blog
Turnkey Investing – Invest in the Free State from Out of State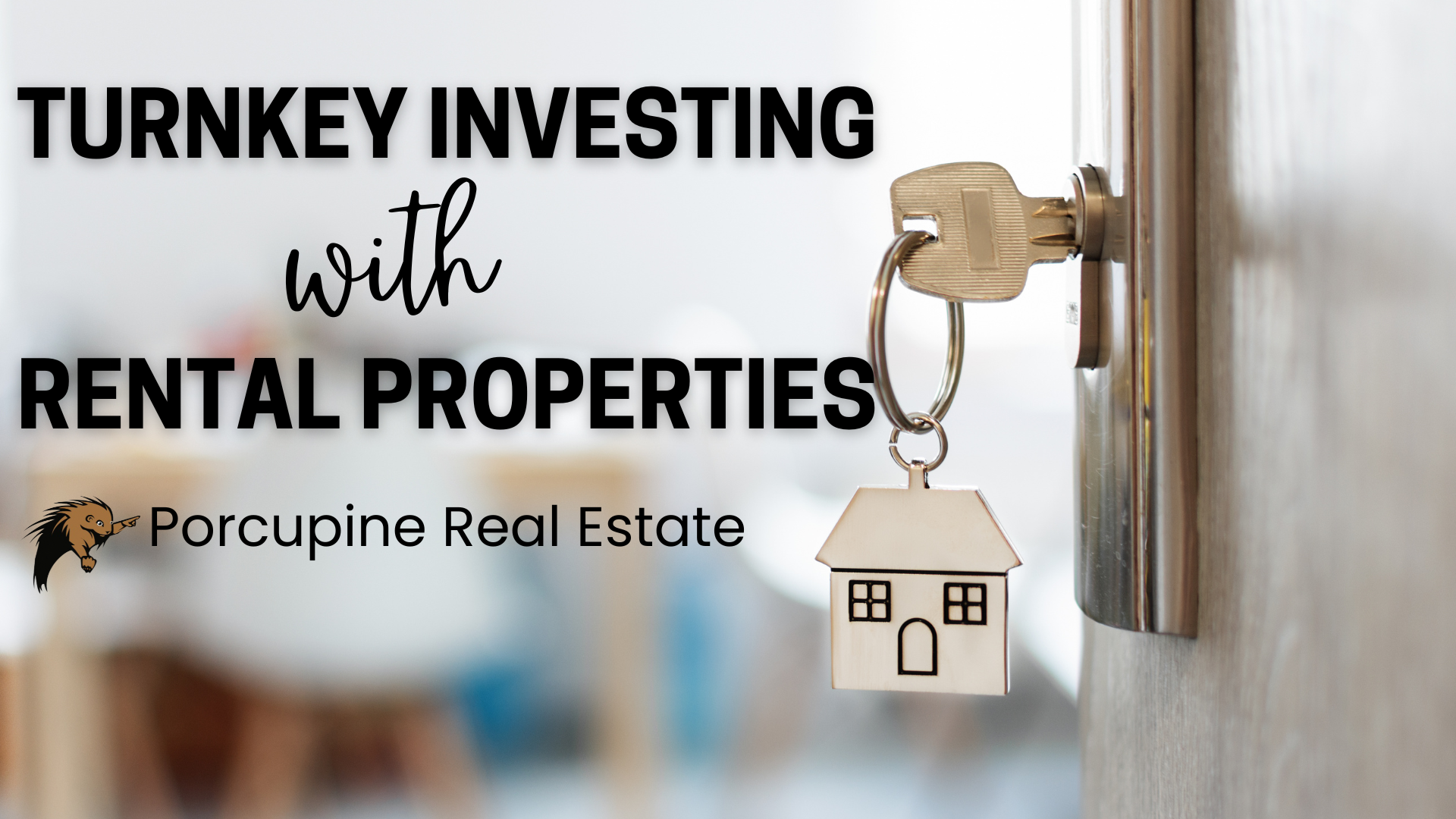 Just because you can't move to New Hampshire, doesn't mean you can't support the Free State Project from afar.
We have many clients who invest in New Hampshire real estate, even though they don't live in or plan to move to New Hampshire. 
While it can be overwhelming to figure out how to invest in real estate when you don't live in the state, Porcupine Real Estate and Ledgeview Commercial have put together a handy guide for what you should consider when buying an investment property in New Hampshire.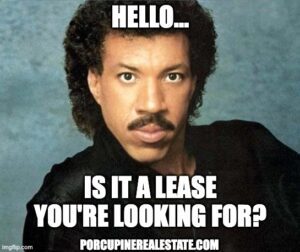 Best towns for rental properties.
There are a few things you should think about when considering which town you want to buy your property in. 
Population: 13% of New Hampshire residents live in the Manchester/Concord area, but that doesn't mean that you shouldn't buy a property outside of that area. It all depends on what your goals are as an investor.
Job market:

One of the most important factors to consider is the job market in the town you're considering. You want to make sure that there are plenty of jobs available so that your tenants will be able to afford to pay rent. You can research the job market by looking at unemployment rates, average salaries, and the types of businesses that are located in the area.

Rental demand:

Another important factor to consider is the rental demand in the town. You want to make sure that there is a high demand for rental units so that you can easily find tenants. You can research rental demand by looking at vacancy rates and average rent prices. The combination of high average income levels, low unemployment, and extremely low

vacancy

rates in New Hampshire points to continued demand for rentals. 
Many of our investors want to support what we're doing with the Free State Project, and Manchester is a fantastic city for those investments. Others want to invest in a property that is around a tourist-heavy area, like ski resorts or lakes. 
Property values.
You also want to make sure that the town you choose has a strong real estate market.
This means that property values should be increasing over time so that you can, ideally, make a profit when you sell your rental property.
You can research property values by looking at historical data and current trends.
Single-family vs multi-family property.
If you're from out west, you might be surprised at how many 3-unit and 4-unit properties there are in New Hampshire. Many of these affordable multi-family buildings are in former mill towns in the Merrimack Valley.
Brittany Ping of Ledgeview Commercial recommends going with a 4-family, if you can find one, "You'll have the income coming in immediately. And 3- or 4-family properties are excellent for first-time investors."
But that's not to say that multi-family properties are the only way to go. Plenty of investors find success investing in single-family homes. In New Hampshire, people are often willing to pay a premium to be in a rural area where they can have chickens and goats and room for a garden.
According to Brittany, "Buying a home where there's a shortage of homes, like the Upper Valley, makes sense."
Condos are also another great option. "It's also a smart idea to start with a condo as your first investment property. You're only responsible for what is inside the walls; you're not responsible for who's going to plow, sometimes utilities are included in the HOA dues, and condos have extra amenities you might not be otherwise able to provide," says Brittany.
Short-term rentals.
If you want short-term rentals for Airbnb, those might make more sense in tourist areas like the Lakes Region or around ski slopes. Short-term rentals in New Hampshire require the owner to pay "rooms and meals" tax. 
Mark Warden of Porcupine Real Estate says that even single-family homes with accessory dwelling units (ADUs) or in-law suites can be very lucrative for short-term rentals, and in many cases, the overall income is greater than a long-term rental in the same place. 
You'll find successful short-term rentals throughout the state, from the cities to the coast to the mountains. There are even management companies that specialize in short-term rentals. 
Market rents.
Market rents for 2-bedroom units saw a big adjustment from 2022 to 2023. The market has been fairly aggressive and the vacancy rates are near 0% for the Merrimack Valley region. "In my opinion," states Brittany, "demand has only increased. I don't think it's going anywhere." 
The management process.
What does it look like if you use a property manager? Ledgeview Commercial has a proprietary comparative market analysis tool they use for rentals.
But, as Brittany points out, "It's an art, not a science. If a property is high-end with custom finishes, you can charge above market rent."
On the other hand, if it's dated and doesn't have any updates, Ledgeview Commercial will help you arrive at an amount that works because "You don't want to leave money on the table. We'll work with you to figure out what the market can bear based on the condition of the property," says Brittany. 
Other factors to take into account include square footage, what floor it's on, if there's additional storage space, if a washer and dryer are on-site, and if water/sewer is included. 
And the one thing you can usually count on increasing as property values increase is property taxes. According to Brittany, "We get a preview of what the city and towns are doing with the tax rate before increases go into effect, so Ledgeview Commercial takes that into account."
Additionally, there can be some other considerations when looking at rent prices. Some heating systems are not separate, so heat is included in the rent. And off-street parking might be included, which adds a premium. 
Purchase price.
Brittany says that Ledgeview Commercial can provide year-to-year reports and their clients have a lot of white-glove handholding. "We figure out what a purchase might look like for an investor who wants to buy. We have been doing this for over 18 years, and our knowledge and experience are built into our property management business."
Pros:
Invest in New Hampshire
Both Brittany and Mark agree that the biggest benefit to buying a turnkey investment property in New Hampshire is that you can invest in the Free State without having to move here. Ledgeview Commercial has many out-of-state clients who are doing just that and who want to be entirely hands-off, turning the day-to-day management over to them. 
Passive Income
The next biggest advantage to having an investment income is passive income and cash flow. Ledgeview Commercial has a break-even maintenance philosophy, so any units that they manage have at-cost labor and materials charges. 
Appreciation
It's also important to take into account property value appreciation. Looking at the current market, in New Hampshire, we are still at a point where supply is so much less than demand that Brittany is not concerned about the growth potential of a property. 
Depreciation
And on the flip side, depreciation is also a positive with investment properties. Investors can write off depreciation based on the IRS schedule. The best part? Ledgeview Commercial keeps track of all the paperwork so you don't have to worry about it. 
Write-offs
Likewise, wading through the various expenses to pass along to your accountant can be overwhelming. The first year that you're a management client with Ledgeview Commercial, the broker will work directly with your CPA to review expenses line by line so that everything makes sense.
Hands-off
Ledgeview Commercial's goal is to save you time managing your properties and make the process as easy and as hands-off as possible.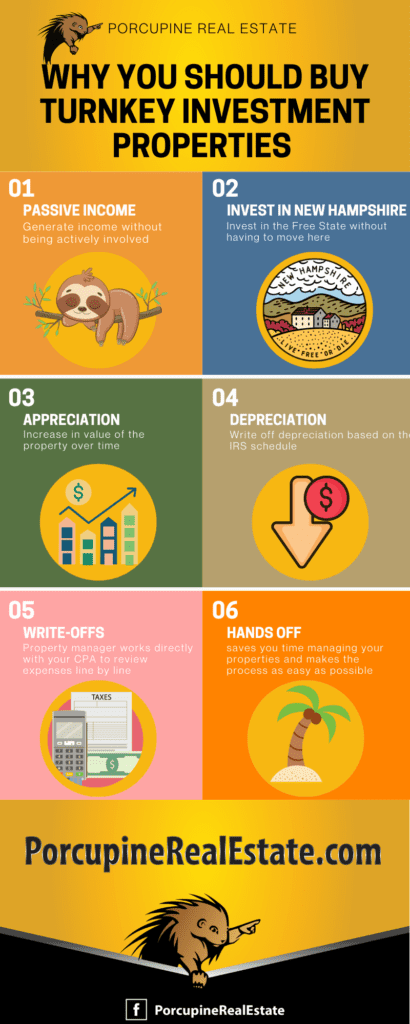 Cons:
Late/No Rent
At the top of the list of cons to owning an investment property are tenants who don't pay their rent or pay late.
As Brittany states, "That's the benefit of working with Ledgeview Commercial - we have great communication with our tenants and try to work with them through whatever situation they're dealing with. By creating an option that works for everyone, tenants have some skin in the game." 
Out of the 325 units that Ledgeview Commercial manages, around 10-15% pay later than the due date, and only .5% of tenants end up going to court to be evicted. Overall, it's not very common to evict, though. 
Legal Fees
If you self-manage, you should consider using a  lawyer to draw up the lease so there's no uncertainty about when rent is due, when rent is considered late, when you'll start the eviction process, or what the lease terms are.
Maintenance Costs
Another downside to owning an investment property can be the maintenance costs. The best way to estimate future maintenance expenses is to have a thorough home inspection when you buy the property.
With New Hampshire having many buildings from the 1800s and early 1900s, it's imperative to understand if you have things like 100-year-old cast iron pipes or antiquated wiring or drafty windows, all of which can lead to large future outlays. Creating a capex fund will save you a lot of headaches.
If you self-manage your property, you need to figure out what the cost is for an emergency call to the repair person. If it's just one handyperson that responds to everything, they might be cheap but they might not come out on a weekend or after hours.
Ledgeview Commercial mitigates the overall maintenance cost with in-house maintenance staff and outside vendors when necessary. And the most common maintenance call? Leaks. 
Lead Paint
With New Hampshire's old buildings, lead paint can be another issue in properties. According to Brittany, "Any good, responsible landlord will want to make sure their building is maintained to avoid peeling, chipping paint. You may think you know where all the lead paint is, but you should commit to using the proper materials and techniques to protect yourself and your tenants."
The official cutoff according to the EPA is 1978, so any buildings built before 1978 are at risk of having lead paint.
If a tenant is tested and has high levels of lead in their blood, it will be reported to the state, and the state will put a lien on your property, and you'll need to remediate it. We want to protect your investment and protect children so be aware of lead paint and use simple practices like maintaining your paint."
New Hampshire's lead abatement laws are not unreasonable, though. In Massachusetts, you can't have a rental that hasn't gone through lead paint certification. That's not the case in New Hampshire, though. You might have one unit and the common area that are certified and the rest of the property is not. 
Snow
Winter in New Hampshire can be snowy. Ledgeview Commercial removes snow for convenience and emergency egress. All common area paths are shoveled out to keep people safe. 
Inspections
While dealing with bureaucrats might not be your idea of a good use of time, city inspections are required in some New Hampshire cities.
In Manchester, the city inspector visits the property every 3 years to ensure that your property meets the minimum safety code standards. 
Ledgeview Commercial strives to maintain a good relationship with city officials. With the demand for housing being so great, inconveniences like city inspections keep the bad actors honest. 
Ready to invest?
Investing out of state can be difficult if you don't have a team of professionals lined up and ready to go. With our extensive networks, Porcupine Real Estate and Ledgeview Commercial ensure that you have the network and resources to be a successful out-of-state investor.
Watch the full webinar here: