Porcupine Real Estate Blog
Client Profile – Marisa and Miles – Farmington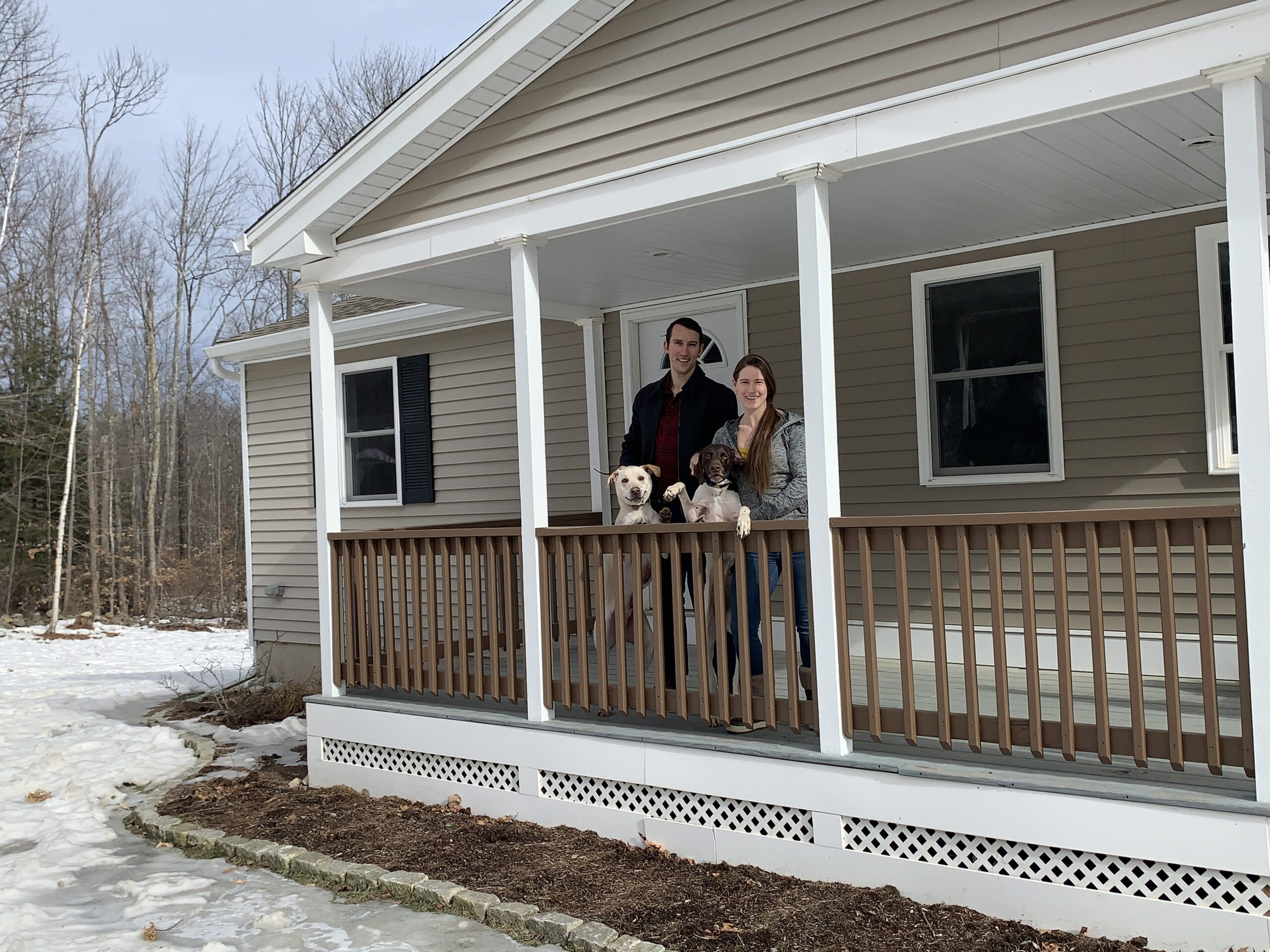 Marisa and Miles discovered the Free State Project in 2015 while they were living in Nevada. After lengthy conversations and researching other locations (Utah, Idaho, North Dakota, and Wyoming were on the list), they visited New Hampshire in 2018 and solidified their decision to move to the Free State. Establishing a deadline of summer 2020 to make the move, they bought a trailer, packed their entire life away, said goodbye to their families on the west coast, and headed to New Hampshire with their dogs.
The couple found it difficult to find housing that would allow pets, but they were persistent. They finally found a townhouse rental in Rochester, in a complex that had several other renters with pets. Knowing that renting wasn't their ideal situation, they started their house-hunt with Porcupine Real Estate agent, Michael Elliott. 
Their list of wants was simple: land, at least two bedrooms, and two bathrooms. Over the next several months, Porcupine Real Estate agents Regan & Michael helped Marisa and Miles to find the perfect place, and, as Marisa remembers, "Honestly, it felt like we were their only clients. They went out of their way to get us showings, constantly inquiring about the details we were looking for in a house; findings the little things that we may have not even considered ourselves!" 
Finally, after a year of showings and multiple offers, they found a home in Farmington in November 2021 that checked all their boxes: land with established garden beds, two bedrooms, a two-car garage, and was turnkey. Unfortunately, the property already had several offers and another offer was selected. Explains Marisa, "Since Michael wouldn't take no for an answer, he asked if we could be a backup, as we all felt it was a very strong offer.  Two weeks later, Michael called and asked if we were still interested.  They were accepting our offer!"
Some of Miles and Marisa's favorite things about New Hampshire are that they can easily get to the beach, lake, or mountains for a day and that people are genuinely friendly. They also enjoy going down the street to get farm fresh eggs or maple syrup from a neighbor and meats and produce from local farmers.  Perhaps best of all is that they can shoot on their property and their neighbors are not only okay with it, but they are shooters too.  
They have also fallen in love with Farmington "We chose Farmington mostly because the outskirts are not densely populated.  We wanted to own land, and not have neighbors that were so close we couldn't use the land how we wanted.  We wanted to have our privacy, but not so far out that it would be a trek to get groceries," explains Marisa.
Marisa says that the one thing she is very grateful for is the support and perseverance of Porcupine Real Estate agents Michael and Regan. "They laughed with us, they cried with us, they lifted us up from feeling defeated after many rejections. Michael found the house for us, he worked late hours with Regan to help write us a strong offer, and insisted when it was not chosen at first, that we were never out of the running.  Thanks to them, we couldn't be happier!"